ZENITH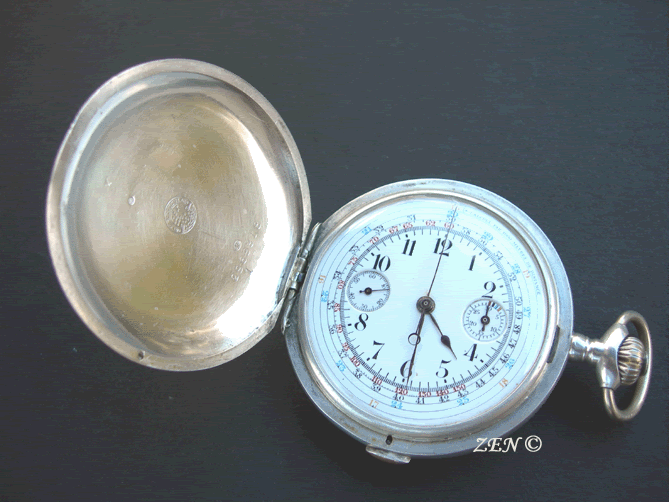 Sterling silver hunter chronograph from ZENITH from 11th April 1916. The case is engraved "ZB" for ZENITH BILLODES. In this time, the dials and the cases were made in house by ZENITH.
Chronographe savonnette en argent ZENITH fabriqué le 21 décembre 1915 pour l'ébauche, sortie de sertissage le 10 janvier 1916 et en montre le 11 avril 1916. La boite est signée Zénith et poinçonnée "ZB" marque d'orfévrerie de ZENITH qui à cette époque fabriquait ses boite et ses cadran.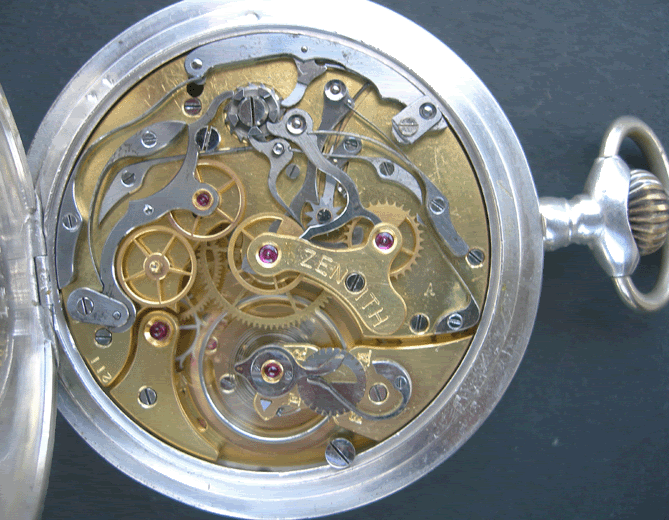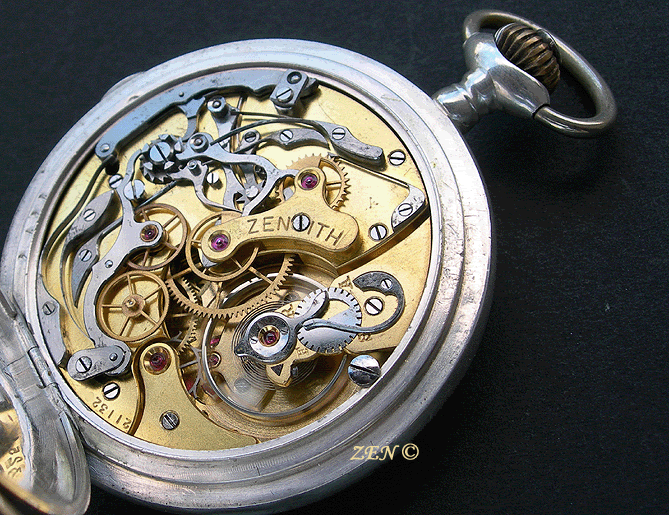 The movement of chronograph ZENITH is a 19" chronmeter certified.This rare version(12 pieces) was made with a monometallic balance.

Le calibre chronographe ZENITH 19 lignes était fabriqué entièrement par la manufacture. Cette version rare disposa d'un certificat de chronomètre(12 exemplaires en tout avec cette mention). Le balancier monométallique avec ses vis de compensation en or jaune est remarquable.
.

STAUFFER & C°
.
First chronographs calibers with a contemporay conception had a minute-counter. It was in the end of the 19 th century.
Les premiers chronographes bénéficiant d'une conception "moderne" furent fabriqués à la fin du 19 ème siècle.



This is one of the first chronograph with minute-counter manufactured in small serial.
It was made in Switzerland after 1892.
The counterclockwise hand of minute-counter is realy unusual.

Celui-ci est l'un des tout premier modèle de chronographes fabriqué en ( petite) série.
Il fut produit en Suisse vers 1892. L'aiguille du totalisateur des minutes est remarquable par le fait qu'elle tourne dans le sens inverse de celui des autres aiguilles.

The caliber is signed "S & C°" For STAUFFER & C°.
Le calibre est signé "S & C°" pour STAUFFER & C°.

Great precision for this caliber, 120 years old !
A patent was recorded for this kind of caliber by Georges Nicolet in 1892 (18th june at 6'PM) near in Geneve.( Patent 4821/115 )
Gande précision pour ce calibre de 120 ans d'âge.
Un brevet fut déposé pour ce calibre par Georges Nicolet le 18 juin 1892 à 18 heures auprès du bureau fédéral de la propriété intellectuelle à Genève ( Brevet 4821/115 )

.


Other anonymous chronograph from the beginning of the 20th century.
Autre chronographe anonyme du début du 20ème siécle.

.


...and its caliber
...et son calibre

Patented Caliber. Calibre bréveté.
.


A chronograpg with a case made of gold.
Chronographe en or.

The caliber is an Invicta-Le Phare in Neuchatel.
Le calibre est un Invicta-Le Phare à Neuchatel.



The mouvement is in a perfect condition.
Mouvement en parfait état.
.
An old advertising from 1951.
Une vieille publicité de 1951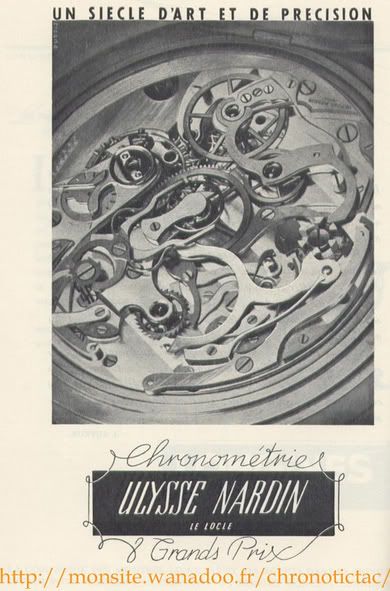 .
LES PASSIONNES DES CHRONOS DE POCHES SONT SUR FORUMAMONTRES (lien dans l'image)