VIXA TYPE 20
The TYPE 20 - Les "TYPE 20"
This watch is certainly the most famous of the french military watches.
Several brands made it as BREGUET, DODANE, AIRAIN, AURICOSTE and VIXA...
Le chrono type 20 est certainement le plus célèbre des chronographes militaires de l'armée Française. Il fut livré par Dodane,DODANE, AIRAIN, AURICOSTE et VIXA.

Its caliber is an Hanhart and the watch was brought into service in 1954.
Le calibre de cette montre fourni par l'allemagne au titre des dommages de guere est un Hanhart. La montre fut mise en service en 1954.

On the case back are engraved the completion dates of guarantee synonyms of expiries for the successive revisions.
Sur le fond sont gravées les dates de fin de garantie synonymes d'échéances pour les révisions successives.
ZENITH CHRONOGRAPHS.
CHRONOGRAPHES ZENITH.

All the chronographs made by ZENITH were excellent watches.
Before the EL PRIMERO two family of calibers ZENITH are famous.
The 146/156 family that we can find in the Universal watches ( from Martel watch) and the 136 family (from Excelsior Park).
The both are of an excellent quality and necessary to get in a good collection.
Tous les chronographes produits par ZENITH furent d'excellentes pièces d'horlogerie.
Avant l'ère du EL PRIMERO, deux familles de calibres de chronographes ont contribué à la renommée de ZENITH.
La famille des 146/156 de Martel Watch que l'on retrouve également dans les montres Universal et la famille du 136 issue de la technologie d'Excelsior Park.

.


ZENITH chronograph with stainless steel case and the caliber ZENITH 146. This model was made in 1965, the caliber was used so by UNIVERSAL and its conception is a Martel watch one.
Chronographe ZENITH en acier deux compteurs avec le calibre ZENITH 146. Ce calibre fut utilisé aussi par UNIVERSAL en version 3 compteurs, pour son modèle "TRICOMPAX". Ce calibre 14 lignes et 17 rubis fut mit au point par Martel Watch.

.


Version of ZENITH chronograph with solid gold case 18 K and caliber ZENITH 156.
Chronographe ZENITH avec boite or 18 carats et calibre ZENITH 156. C'est la version 15 lignes du 146.
.
NOREXA

Chronograph NOREXA with case gold plated.
Chronograph NOREXA avec un boitier plaqué or.

The dial is in good condition even if the hands are oxidized.
Le cadran est en bon état mais les aiguilles sont oxydées.
IPI WARCH C°

This Chronograph from IPI WATCH C° is a luxus version with a case made of Stainless steel. Its diameter is 38 mm.
Ce chronograph d'IPI WATCH C° est une version luxe en boitier acier inox pour un diamètre de 38 mm.

The original dial is in perfect condition.
Le cadran original est en parfait état.

The caliber is a LANDERON 39 with column wheel.
Le calibre est un LANDERON 39 à roue à colonnes.

The caliber is decorated , it's a 14.5', diameter 32.71mm with 17 jewels and 18000 A/h.
Le calibre est décoré "fausse cotes de Genève, c'est un 14,5 lignes, diamètre 32,71 mm avec 17 rubis pour 18 000 alternances par heure.
.
LEBOIS Extra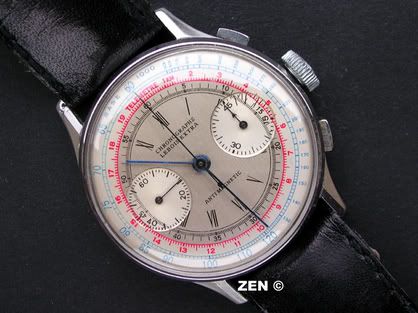 The caliber of this chronograph LEBOIS is so a Landeron 39. The diameter of the watch is 39 mm.
Ce chronographe LEBOIS Extra de 39 mm de diamètre contient également un calibre Landeron 39.

.
MEAD and C°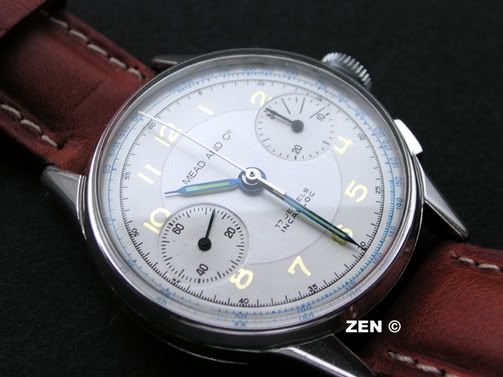 The caliber of this chronographe MEAD AND C° is a Valjoux 23.
Ce chrono MEAD and C° contient un Valjoux 23.
.
CORESA

Chronograph CORESA which was a Swiss brand during the 50'. Case made of gold.
Chronographe CORESA marque Suisse jusque dans les années 50/60. Boite or.

The caliber Landeron 48 made from 1937 to 1970.
It's a 13,75', 17 jewels, diameter 31 mm, 18 000 vibrations per hour. Power reserve 44 hours.
Le calibre Landeron 48 fabriqué de 1937 à 1970.
C'est un 13,75 lignes, 17 rubis diamètre 31 mm, 18 000 alternances par heure.Réserve de marche 44 heures.
CHRONOGRAPHE SUISSE

Chronographe made of gold. The caliber is a Landeron 51.
Chronographe en or avec calibre Landeron 51.

The diameter of the watch is 38 mm.
Le diamètre de la montre est de 38 mm.
.

.
FORTIS

This chronograph FORTIS was made during the sixties.The diameter is 36 mm.
Ce chronographe FORTIS date des années 60, le diamètre est de 36 mm.

The movement is a Valjoux 92 in white finition.
Le mouvement est un Valjoux 92 avec finition rodiée.
.
BELVIL

Chronograph BELVIL.
Multiple colors on the dials generally with two subdials.
Chronographe BELVIL avec un cadran très coloré et simplement deux compteurs.

The state of these watches testifies to the last time of which they measured a part.
L'état de ces montres atteste de leur utilisation.
.
MONTDOR

Chronograph MONTDOR.
The style of the current watches is very inspired by these old models.
Chronographe MONTDOR qui a pu inspirer nombre de modèles contemporains.

Classic model chronometer certified.
Modèle classique certifié chronomètre.

.
ASTRAL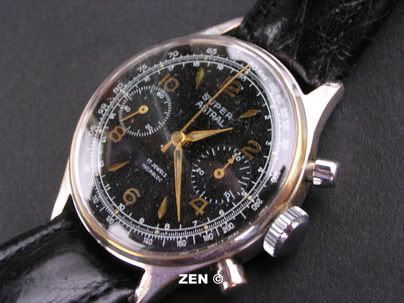 This chronographe Astral is made with a Caliber Valjoux 188.
Ce chronographe ASTRAL renferme un calibre Valjoux 188.
.
VENEZ PARLER DE VOTRE PASSION POUR LES MONTRES SUR FORUMAMONTRES (lien dans l'image)