BREITLING NAVITIMER.
It is always large a dilemne to decide to make restore a watch and in particular its dial. For this Navitimer, the restoration was carried out perfectly and it watch is particularly pleasant to carry. It combines the pleasure of the nine and old.
Navitimer of BREITLING is the oldest model of watch which is always in the catalogue, sorry, the Chronolog.
Navitimer received certainly the most varied movements for the same model: Venus 178, Valjoux 72, Valjoux 7740, ETA 2892, ETA 7750, LEMANIA 1872, caliber 12 Heuer/ Breitling/ Hamilton/ Dubois-Depraz, Quartz...

C'est toujours un grand dilemne pour décider de faire restaurer une montre et en particulier son cadran. Pour cette Navitimer, la restauration fut parfaitement réalisée et la montre est particulièrement agréable à porter. Elle allie le plaisir du neuf et de l'ancien.
La Navitimer de BREITLING est le modèle de montre le plus ancien qui soit toujours dans la catalogue, pardon, le Chronolog.
La Navitimer a certainement reçu le nombre le plus varié de mouvement pour un même modèle: Venus 178, Valjoux 72, Valjoux 7740, ETA 2892, ETA 7750, LEMANIA 1872, Calibre 12 Heuer/ Breitling/ Hamilton/ Dubois-Dépraz, Quartz...

Breitling Navitimer 806 before restoration.The picture is good but the dial is in a very bad condition. The caliber is a VENUS 178.
Breitling Navitimer 806 avant restauration. La photo ne permet pas de voir à quel point le cadran est abimé. Le calibre est un VENUS 178.

BREITLING Navitimer 806 after restoration by Breitling service.
Breitling Navitimer 806 après restauration.
OMEGA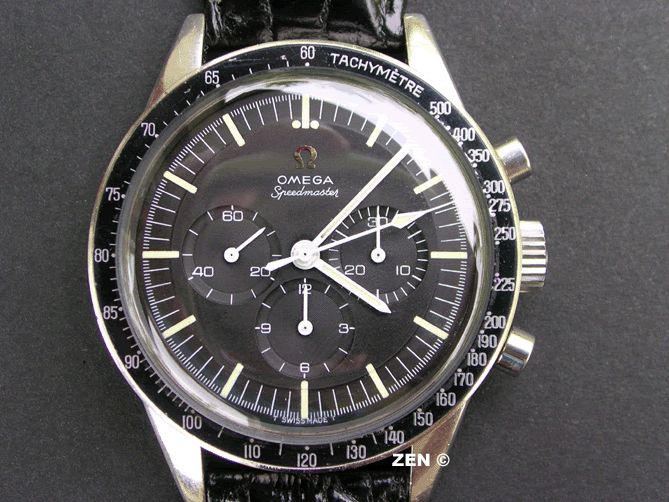 History of the Speedmaster by link in picture / Lien dans l'imagesur l'historoire de la Speedmaster
Speedmaster 105003 Premoon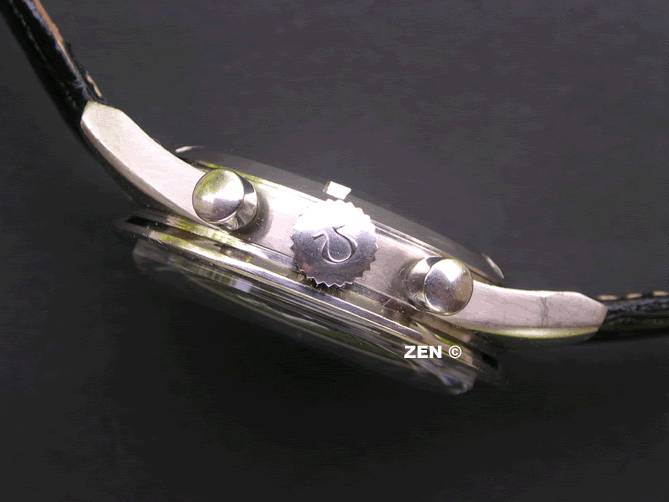 The box delivered with the Speedmaster in 1965
.
SEIKO.

This chronograph SEIKO was made on march 1972. The caliber is a SEIKO 6138 with column wheel.
Ce chrono SEIKO équipé du calibre 6138 à roue à colonnes fut fabriqué en mars 1972...
DIFOR.

During the Seventies, the forms of cases became much more massive.
Durant les années 70, le design des boitiers fut plus massif.

Cases became also thicker.
Les boitiers furent parfois plus épais.
BESSA Watch.

The fashion was also to propose square forms.
La mode proposa des formes "carrées".

The chronograph of the Seventies is conspicuous...
La montre des années 70 est souvent "voyante".

It is also richly coloured...
Les couleurs sont omniprésentes.
.
LORA.
The variety of the models is impressive.
La profusion de modèles est impressionnate.
AIRAIN

The screens of the television sets became sources of inspiration for the designers...
Parfois les téléviseurs furent source d'inspiration des designers...

...leaving watches to the surprising forms.
...ce qui offrit des formes surprenantes.
The traditional forms preserved their place in particular for the watches of diving.
Nombre de modèles notamment dans les montres dites "de plongée" ont conservé une certaine rigueur dans les formes.

This Diver watch is very colored as a lot of models during the seventies.
Comme beaucoup de montre de cette époque, ce modèle de plongée est très coloré.

.
LEBEM.

The characteristics of these watches are rather constant.
Les caractéristiques de ces montres sont constantes.

.
HEUER.

Chronograph EASY RIDER (1975).
The large sportsmen were already solicited by the brands... The caliber is a HEUER LEONIDAS movement-blank BETTLACH caliber 8420, 17 jewels.
Le monde sportif déjà, était sollicité par les marques.Le calibre est signé Heuer-Léonidas, ébauche BETTLACH calibre 8420, 17 rubis et l'échappement est de type à ancre à chevilles.



At the time, Jacky ICKX had signed with brand HEUER.
This great brand does not appear on the dial.
Jacky ICKX avait signé avec la marque HEUER.
.
YEMA
Chronograph from the french brand YEMA; Its caliber is a Valjoux 7730.
Chronographe YEMA avec calibre Valjoux 7730.

.
VENEZ REJOINDRE LES DISCUSSIONS DE FORUMAMONTRES ( Clic dans l'image )