OMEGA, LONGINES, EXCELSIOR PARK, HANHART...
Pocket chronographs were in use in the army and in sports.
There is a great production in every brand and in "the old time", often, a lot of models had no brand inscription on the dial.

Les chronographes de poches furent particulièrement prisés dans l'armée et dans le chronométrage des épreuves sportives.
A l'époque, nombre de modèle ne comportaient aucune indication de marque sur le cadran.
.
OMEGA

.
OMEGA was one of the fisrt brand which made chronographs in the end of the 19th century.
OMEGA fut l'une des premiéres marques capables de produire des chronographes ceci dés la fin du 19ème siècle.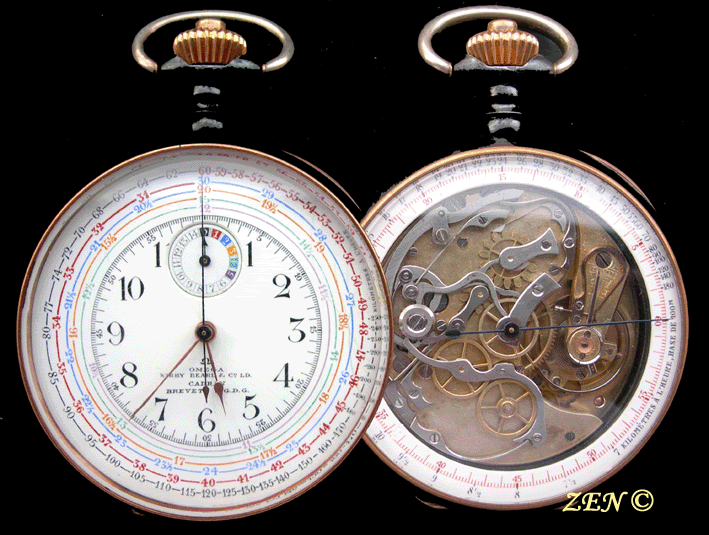 Advertising in picture / Publicité dans l'image
The most beautiful version of the pochet chronograph OMEGA is certainly the "double face" made with the caliber 19"' chro from 1906.

Chronotachymètre double face Omega, 1906: Calibre 19/22"' LOB, cadran émail breveté SGDG - sans garantie du gouvernement - portant le nom du grand magasin parisien Kirby Beard & Co Ltd avec échelle tachymétrique à base kilométrique
permettant de déterminer - par simple lecture et sans calcul - toute vitesse entre 10,5 et 250 km/h, totalisateur 15 minutes rapporté à midi, commençant par six divisions dont les couleurs indiquent les spires de l'échelle tachymétrique à lire, heures arabes Paris, minuterie traits au 5ème de seconde, aiguilles poires et couronne dorées rose; le fond transparent de ce modèle est muni d'un cadran émail annulaire à base hectométrique permettant de déterminer toute
vitesse entre 7 et 180 km/h au moyen d'une aiguille rétrograde; boîte bassine en
acier.
La mention "19/22" de la référence signifie que ce calibre est un 19''' CHRO adapté à une boîte de 22'''avec tige de remontoir plus longue.
SGDG signifie, dans le droit français, que le brevet d'invention délivré par l'autorité compétente donne à son titulaire une exclusivité temporaire d'exploitation (empêchant dès lors qu'il soit copié), mais sans que l'Etat ne garantisse qu'il vaille quelque chose, autrement dit que ses revendications soient bien revetables, c'est-à-dire nouvelles, inventives et susceptibles d'application industrielle.Cette autorisation pouvait être annulée en justice au cas où l'une de ces conditions faisait défaut.
Kirby, Beard & Co Ltd est une maison anglaise fondée en 1743, spécialisée dans l'argenterie, l'horlogerie et l'orfèvrerie, avec fabriques à Londres et Birmingham. Sa filiale parisienne a été le principal détaillant Omega en France de la fin du XIXème siècle jusqu'à la Seconde Guerre mondiale.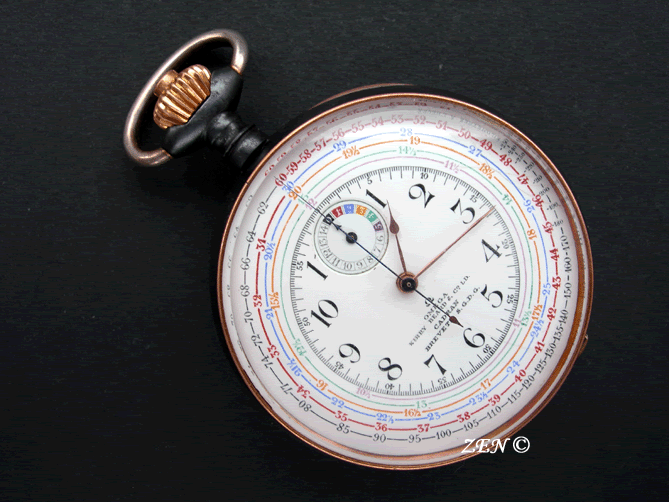 Notice in picture/ Mode d'emploi dans l'image.
This chronograph was sold by Parisian sailer Kirby Beard & C°. The catalog of Kirby Beard said that the watch was made for motorist the price in 1906 was 160 francs for steel or nickel version, 175 francs for silver version and 525 francs for gold version.
Le catalogue Kirby Beard & C°de 1906 présente ce modèle comme conçu pour les automobilistes et les prix sont de 160 francs en acier ou nickel, 175 francs en argent et 525 francs en or massif.

Find here a link with catalog Kirby Beard
Lien ici avec le catalogue Kirby Beard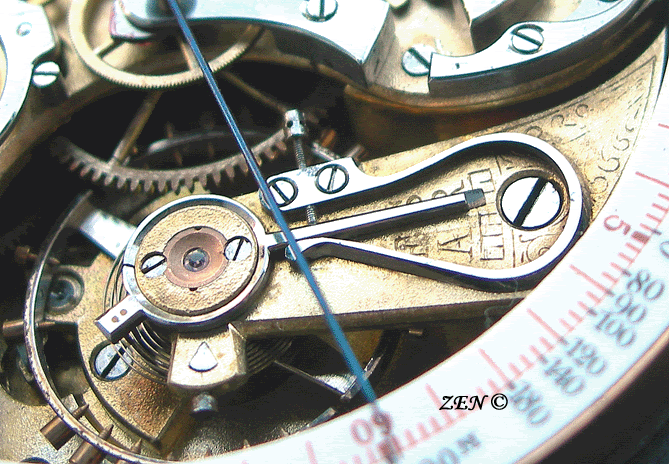 This one has just one small dial for minutes.
Celui-ci ne compte qu'un seul totalisateur des minutes.
.


The dial is very colored, pleasing and easy to read.
Le cadran trés coloré est resté trés agréable et facile à lire.
.


This movement OMEGA for pocket chronograph is a 18'''P CHRO (P for plate, 7,15mm) This caliber was made by Omega for its Chronograph from 1906 to 1928 with 3 versions A, B and C 15 or 19 jewels). This version is made with 19 jewels.
Ce mouvement de chronographe de poche OMEGA est un 18''' P CHRO (P pour plat, 7,15mm d'épaisseur) fabriqué de 1906 à 1928 par Omega en 3 version A, B et C avec 15 et19 rubis).Ici la version 19 rubis.

.


Another way to see the caliber...
Une autre façon de voir le calibre...

.
LONGINES
LONGINES as OMEGA made of the chronographs its speciality and became official chronometer of several sports.
LONGINES comme OMEGA se spécialisa trés tôt dans la fabrication de chronographes et dans le chronométrage de compétitions sportives.

Very beatiful chronograph in steel case.
Trés beau chronographe en boitier acier.
.


.


The caliber 19.73 from LONGINES shows a very good technology for a watch fron the begining of the 20 th century.
Le calibre 19.73 de LONGINES démontre un trés gande maitrise de la technologie pour une pièce du début du 20 ème siècle.

Details of the caliber. There is also a split second version of the movement 19.73.
Détails du calibre 19.73 dont il existe aussi une version à rattrapante.

The column wheel.
La roue à colonnes.
.
EXCELSIOR PARK

EXCELSIOR PARK made certainly some of the best chronographs. This model was made for French Army.
Excelsior Park fabriqua parmi les meilleurs chronographes de poche. Celui-ci fut livré à l'armée Française.
.


Caliber Excelsior Park with a case special screwed in the mouvement for small pieces of replacement.
Calibre Excelsior Park remarquable pour sa petite case destinée à contenir des piéces pour assurer la maintenance du calibre.

.


The small case of the caliber Excelsior Park...
La petite case du calibre Excelsior Park...
.
HANHART
HANHART became famous for its chronographs made for Germanic army.
HANHART est surtout réputé pour ses chronographes produits pour l'armée Allemande.

Watch made for Germanic army.
Cette montre fut produite pour l'armée Allemande.
.


Radium dial and hands for this watch.
Cadran et aiguilles au radium pour cette montre.
.
After the second war, Germany was obliged to give to France calibers Hanhart. French army used it in the "Type 20".
Au titre des dommages de guerre, l'Allemagne du livrer à la france des calibres de montres fabriqués par Hanhart qui furent incorporés dans la montre bracelet réglementaire militaire "Type 20".
.
Some old Advertisings

Advertising for a LIP chronograph from 1930.
Publicité pour un chrono LIP de 1930.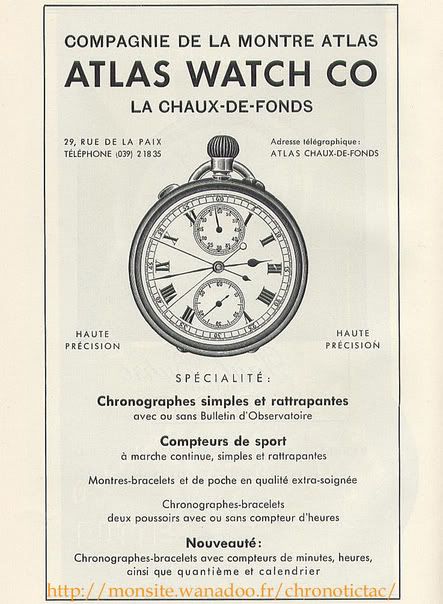 An advertising from 1951.
Une vieille publicité de 1951
.
LES COLLECTIONNEURS DE CHRONOGRAPHES DE POCHE EN DISCUTENT SUR FORUMAMONTRES (lien dans l'image)